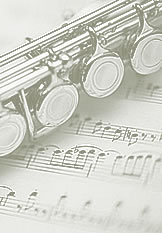 Variety and Quality - All In One!
Watchdog Music Publishers is your place for quality music for band, duets, trios, quartets and larger ensembles in many woodwind, brass, and percussion combinations, from easy to advanced.
Watchdog was started because of the need for variety and quality in ensemble music. We offer a series of Mix and Match duets, trios, and quartets for 7th thru 12th grade which allow for example, a flute to play a duet with a tuba. We also have the standard ensembles for all instruments with a big emphasis on saxophone.
Our services include:
Arrangements made to order for solo, duet, trio, quartet and ensembles, any combination of instruments is possible. The arrangement will be designed to meet the level of your group, from beginner to advanced.

If you need a piece for a special combination give us a call! We specialize in music for unusual combinations.
For more information our service, please contact us and we will be glad to discuss your needs. Some music is subject to copyright restrictions and may not be available for arrangement. Costs will vary depending on the size and scope of the piece.